2022 MICHELIN Guide: new restaurants bookable online with resmio. Picture: screenshot of the MICHELIN Guide Bez Gwiazdek's page.
Two of the best restaurants in Poland and Slovenia are now bookable on the MICHELIN Guide with resmio.
Mozrest is proud to be an official partner of the MICHELIN Guide. Our mission is to help the famous gastronomic guide recruit reservation management partners and connect their systems behind a booking widget.
Through seamless integration, we enable restaurants to take online reservations directly from the MICHELIN Guide apps and website and manage them in their existing reservation software.
Thanks to our recent integration partnership with resmio, we contribute to increasing the list of restaurants bookable through the MICHELIN Guide worldwide. Discover our latest addition: Bez Gwiazdek and Monstera Bistro.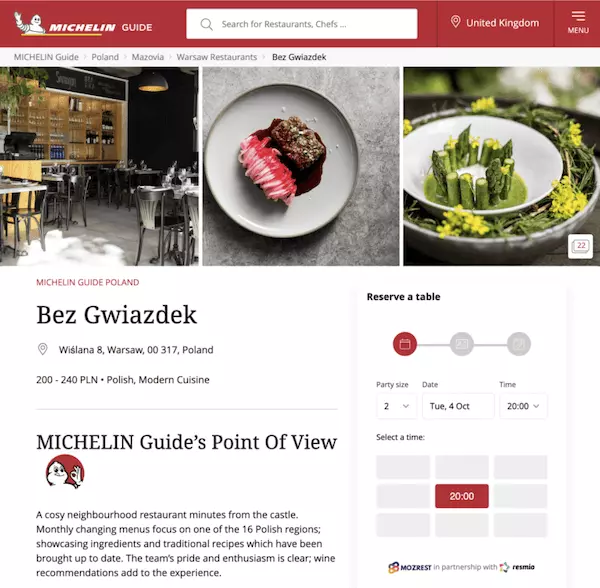 Bez Gwiazdek, 2022 MICHELIN GUIDE POLAND
Located in Warsaw, Poland, Bez Gwiazdek is a cosy neighbourhood restaurant minutes from the castle. Serving Polish regional cuisine in a contemporary setting, chef Robert Trzópek rediscovers the tastes of regional Poland and reinterprets them to stunning effect. Monthly changing menus focus on one of the 16 Polish regions, showcasing ingredients and traditional recipes. Wine recommendations add to the experience.
Book a table for Bez Gwiazdek on the MICHELIN Guide.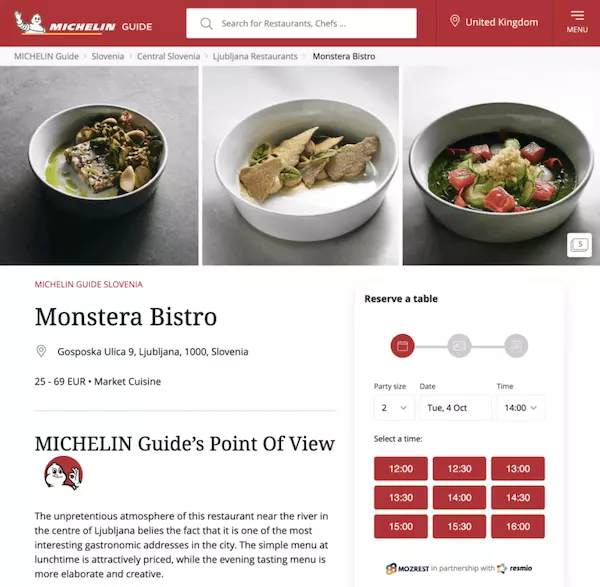 Monstera Bistro, 2022 MICHELIN GUIDE SLOVENIA
Located in Ljubljana, Slovenia, Monstera Bistro is one of the most interesting gastronomic addresses in the city. This restaurant near the river offers innovative author cuisine, where seasonal ingredients thrive in bistro lunches, and new flavours find their way into evening-tasting menus.
Book a table for Monstera Bistro on the MICHELIN Guide.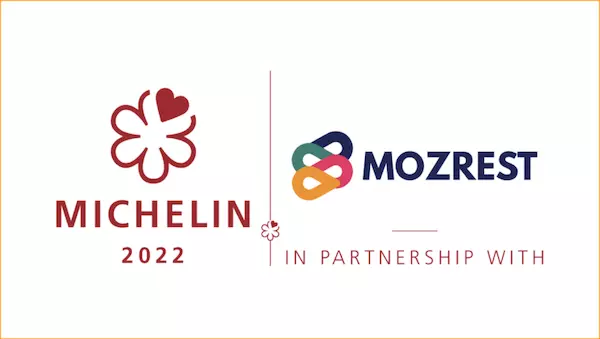 The benefits of being a partner of Mozrest x the MICHELIN Guide
The MICHELIN Guide has partnered with Mozrest to enable seamless reservations through its website.
With more than 15,000 restaurants (including famous Bib Gourmand and MICHELIN Stars) carefully selected worldwide, the MICHELIN Guide is characterised by its high-quality standards and constant quest for excellence and innovation. Combined with Mozrest's technology, the MICHELIN Guide now offers food lovers the ability to seamlessly reserve the best dining experiences in the world through a booking widget connected to multiple reservation software.
Mozrest helps the MICHELIN Guide recruit reservation management partners and connect their systems behind the booking widget to enable restaurants to receive more bookings without changing their existing reservation software. Perfectly integrated into the MICHELIN Guide digital products, the booking widget guarantees a seamless booking experience for website users and mobile apps. In addition, all the data is updated in real-time to provide users with the best possible experience.
Enabling users of the MICHELIN Guide to book the restaurants they love directly through the MICHELIN Guide mobile apps and website is another step in the guide's ambition to provide the best service. Becoming a Mozrest integration partner is fast and simple and is beneficial for partners, restaurants and their guests.